About The Law Office of James E. Mahfood
Mr. Mahfood grew up locally in Pasadena, California and gained his Bachelor of Science Degree from California State University, at Los Angeles in Business Finance and Real Estate in 1975. The earned his Juris Doctorate (Law Degree) from Southwestern University School of Law and Los Angeles, California, served as President of the International Legal Fraternity of Phi Delta Phi and licensed as a California attorney since 1983. He is admitted to the State Bar of California, the United States District Court-Central and Southern Districts of California and the United States Court of Federal Claims. He is a member of the American Bar Association, the Orange County Bar Association and the Orange County Trial Lawyers  Association.
He began his career as a tax attorney with a "Big Eight" Certified Public Accounting firm, then a business and real estate attorney for an Orange County savings and loan association. He gained a broad background of business, real estate and probate matters in his five years as counsel for a local savings and loan association. He has continuously and actively worked in the private practice of law since 1988.He takes a business approach to each estate, large or  moderate and each dispute matter to help maximize the bottom line to the client or minimize the expense of a litigation case. His personal interest and experience in business, real estate and estates provides him the tools to serve the client's needs to resolve disputes by negotiation, litigation or trial. He frequently uses mediation and arbitration to quickly and cost effectively resolve disputes. In his specialized practice, instead of interacting with assistants, the client deals primarily with the attorney. Mahfood Law effectively utilizes cost-effective paralegals for appropriate tasks to minimize fees to the client. As appropriate, specialization attorneys are consulted on certain cases to maximize the recovery… typically at no additional cost to client. However in all situations, direct communication with Mr. Mahfood continues.
He is married to his wife Dianna and lives in South Orange County with his wife and his three nearby college students and adult children.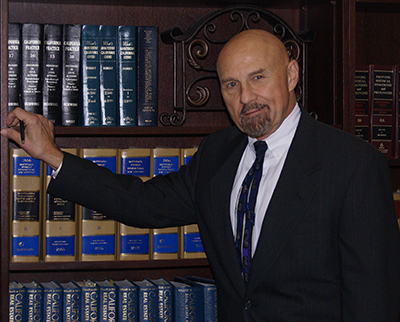 Estate and Wellness Plans
Mr. Mahfood personally reviews each family with the client's realistic needs in mind. If you have an existing plan in place, we will review your documents for appropriate updating or family changes, tax changes and the like. If you need a complete plan, we can provide any combination of wills, trusts, durable powers of attorney and healthcare directives tailor-made to your particular needs.
Probate and Trust Administration
Each decedent estate, whether controlled by a will, trust conservatorship or guardianship is carefully reviewed to properly administrate the estate formally or if necessary through the court probate system. We handle all levels of simple to complicated estates. We further have litigated most types of estate disputes including failures or delays to administrate and distribute, asset entitlement disputes, asset misappropriation, financial and physical elder abuse.